FOREX Binario
Forex Strategy Binario
Forex Strategy Binario is based on the entrance to the market at the breakdown and following the trend, it can be used for trading on the H1 and all other time intervals, more useful it can be for beginners as is very simple forex strategy.
recommend selecting a Brokerages Forex with Terminal Metatrader 4.
mainly Binario strategy was tested on the currency pair GBPUSD, but I think it may well be used for all other currency pairs with equal degrees of success absotyutno.
on time (H1) schedule for the chosen currency pair must be applied " Lines Binario ", which are the two moving averages:
exponential moving average with a period of 144 price highs (to apply to the High) - EMAH 144 .

exponential moving average with a period of 144 minimum price (applied to Low) - EMAL 144 .
These moving averages EMA will enable us to find short-and medium-term trend in the market.
basic rules for transactions of forex strategy Binario: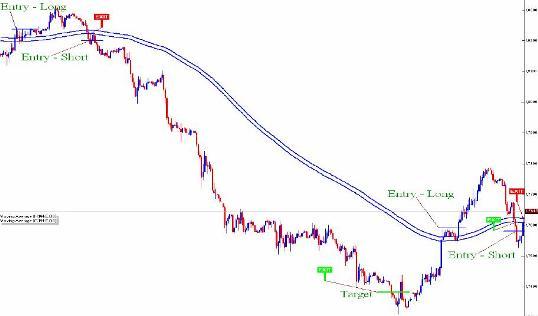 1. Wait until the price would be in line Ryan Binario, and then wait for the breakdown of the price of one of these lines.
2. Set aside an order BuyStop at 25 points + the value of the spread above the top line Binario.
3. Set aside an order SellStop at 25 points + value below the lower line srpeda Binario.
4. Safety stop-loss for a trading position to buy put at a point below the bottom line Binario.
5. Safety stop-loss for a trading position in the market place by 1 point above the upper line Binario. To adjust the stop-loss orders of open positions, use the a trailing stop (size and spacing depends on the interval and the currency pair). < / p>
6. Set the level of TP (TP) - or a standard value (eg 100 n), or set at important levels, or a Fibonacci extension.
7. Trading position should always be adjusted by changing the values ??of the moving average EMA.
8. Out of the trading position is in achieving the target of profit of any stop-loss order.
Update: This forex strategy Binario - is the trend-following strategy, so it is based on catching the large trends . From this small losses can be davolno often, but skip these losing trades can not be - otherwise you risk to miss the trend, which is more than compensate for all damages received!
Use the contents of the site at your own risk | Satisfaction of machine translation